Rashtriya Uchchtar Shiksha Abhiyan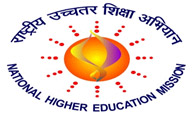 Vision
To improve access, equity and quality in higher education through planned development of higher education at the state level
Introduction
RUSA is a centrally sponsored scheme launched in 2013 aims at providing strategic funding to eligible state higher education institutions. RUSA focuses on better quality and mass access of state higher education institutions. It aims at up gradation of existing autonomous colleges to universities, conversion of colleges to cluster university infrastructural grant to colleges, capacity building and vocationalisation of higher education.
Improve the overall quality of state institution.
Improve equity in higher education.
Usher transforming reforms by creating a facilitating institutional structure.
Ensure adequate availability of quality faculty in all higher educational institutions.
Create an enabling atmosphere for research and innovation.
Correct regional imbalances in by setting up institutions in unnerve and undeserved areas.
Workshops Conducted Under RUSA
Department Of Psychology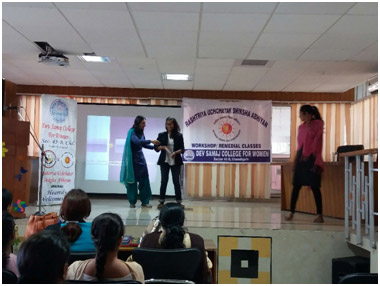 Department of Psychology organized a two-day workshop on 'Emotional Intelligence and EFT" on 21st & 22nd February 2017. The workshop was conducted by a city based counsellor and psychologist and the workshop was sponsored by RUSA. The workshop began with an informative talk on how to manage, regulate one's emotions. The workshop comprised of activity and game based orientation techniques. On 2nd day, students got to know EFT, Emotional freedom technique, which is a fascinating tool for personal improvement. The resource person gave a demonstration on how EFT is done involving tapping with finger tips on meridian points in the body and voicing positive affirmations
Department Of Computer Application
A workshop on 'Android' was organized under aegis of RUSA on 27th February, 2017. This workshop was delivered by Mr. Shwetank Kumar Gupta, Director and Mr. Munish Kumar, Project Manager from Window IT, a Chandigarh based Web Development Company. They explained concepts and programming methodologies needed to develop applications for mobile devices. It was concluded with a Knowledgeable IT Quiz. The workshop was attended by 77 students.
Department Of Cosmetology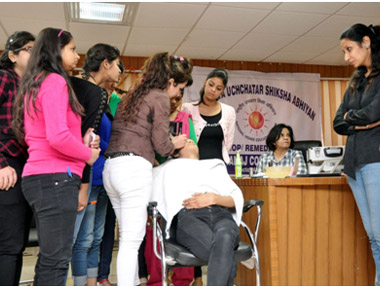 Department of Cosmetology organized a workshop on Skin Care and advanced make up on 28 February 2017. Mrs. Neena Khan, Skin specialist, identified the various skin types and their respective care. Mrs. Malika Chawla, Make-Up Artist, Strands Academy also gave valuable make-up tips to the students. Both the artists coordinated and gave live demonstration of the makeup as per the varied skin types. A galvanic facial was done on student model. Methods and techniques were clearly demonstrated and Instant glow was witnessed on the selected model. An interactive session was conducted towards the end and the students discussed at length their skin related problem.
Literary Society
Department of Punjabi and Hindi organized a one-day workshop on 'Creative Writing Skills' on 1st March, 2017. Dr. ManjeetIndra (Ex-DPI Deputy director) and Mr. Anil Kumar Sharma (Language Officer, AG Haryana, and Chandigarh) talked about the techniques which are used to develop creative writing skills.
Library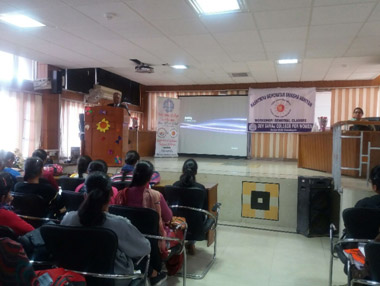 One-day workshop was organized on "Role of Libraries in personality Development" under the aegis of RUSA on 3rd March 2017 in college Premises.
Fine Arts Workshop
A one day workshop was organized by the Department of Fine arts on 27th Feb, 2017. The workshop om 'Water colors and Acrylic colors techniques' was a wonderful experience for the students as they learned artistic skills from the Patiala based artist cum teacher, Mr. Jaswinder Singh.
Faculty Development Programme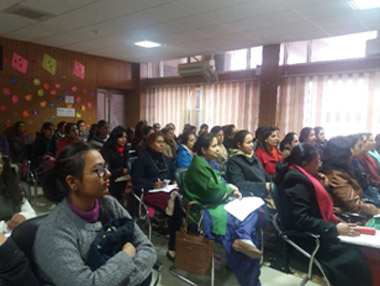 7-day Faculty Development Programme on the theme "The Latest Trends and Techniques in Higher Education" under the aegis of RUSA was held in college from 14th January to 20th January, 2017. The seven-day workshop was inaugurated by Prof. (Dr.) Dalip Kumar, Director, RUSA, and Chandigarh. Prof.(Dr.) S.C. Chaddha, Chairperson, University Business School, Punjab University, Chandigarh was the key note speaker on this occasion who discussed the significance of innovation and creativity in the teaching process and described the role of a teacher as a facilitator and motivator. Prof. (Dr.) Paramjit Kaur, the resource person for the next technical session, explained the loopholes in the evaluation process and curriculum. Day two of the workshop was conducted by Dr. Amit Lal from NIT Jalandhar, who familiarizes the participants with the use of statistical software, SPSS and gave them valuable insights in handling data for research work. The emerging issues in the higher education system in India and its effects in structural formation of the society was discussed by Prof.(Dr.) Satish K Sharma, former Professor, Himachal Pradesh University in the first session of day 3 who stressed on the need for intense educational planning. The interdisciplinary role of Music and its scientific as well as aesthetic aspects was elaborated by Prof. (Dr.) Pankaj mala Sharma, Dept. of Music, PU, Chandigarh who amused the audience with her vast and diverse knowledge. Prof. Meenakshi Malhotra, UBS, Punjab University Chandigarh, stressed on conflict management procedures through communication model. Dr.Diljot Kaur sensitized the participants and analyzed her ideas for stress and time management through various procedures in the following session..