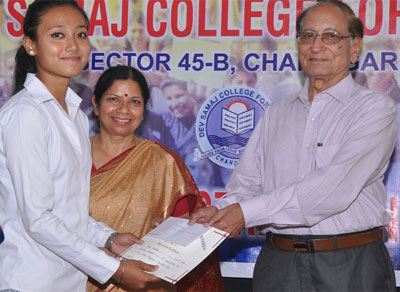 The College liberally gives scholarships and fee concessions to the needy and meritorious students from Students Aid Fund and Scholarship Account.
The Chandigarh Administration under its various schemes grants scholarships to scheduled caste, other backward caste and minority community students. On Need and Merit basis, scholarships are awarded by Mrs. Vimal Bhargava Charitable Trust and staff members.
| Sr. No. | Name of the scholarship | Name of Donor | Amount |
| --- | --- | --- | --- |
| 1. | Student Scholarship | Mrs Vimal Bhargava Charitable Trust | 57,500.00 (for standing 1st & 2nd in Univ. Exam) |
| 2. | Late Mrs Baljeet Dhillon | Dr Agnese Dhillon | 10,000.00 (for needy students) |
| 3. | Virasat, Alumni Association | Six Scholarships | 12,000.00 |
| 4. | Prem Sarita Endowment Fund | Late Mrs V Bhargava | 1500.00 |
| 5. | Sita Gandotra Endowment Fund | Mrs Renu Anand | 1500.00 |
| 6. | Student Scholarship | Mrs Pankaja Vashist | 2500.00 (for meritorious students of Economics) |
| 7. | Late Sh Mohinder Singh | Mrs Tejinder Kaur | 2000.00 |
| 8. | S Ishar Singh Bhatia | Dr Jaspal Kaur | 1000.00 |
| 9. | Smt Kailash Jain | Dr Punam Gupta | 2500.00 |
| 10. | Student Scholarship | Dr Shiva Malik | 1500.00 |
| 11. | Student Scholarship | Mrs Renu Kalra | 4000.00 |
Application For Scholarships
HOW TO APPLY?
The application for fee concession should be submitted on a prescribed form available with Scholarship In-charge at the time of admission and must be attached to the admission form. No such application shall be entertained later on.
The applicants for fee concession shall be interviewed along with their parents by the Principal on the notified dates.
Students belonging to the Scheduled tribes/Castes, other Backward Classes Minorities and Financially Disadvantaged can collect application forms of Government of India/Sate Government Scholarship from the Scholarship In-charge and submit them duly completed within one week from the date of admission.
Fee concession, stipends and scholarships of all the categories are liable to be withdrawn if a student deteriorates in studies/remains irregular in attendance, or is found guilty of misbehaviour.
Tuition fee concession will be granted to brilliant students, and those belonging to economically weaker section. Students intending to seek the concession are required to enclose all the required documents along with the admission form so that the cases can be decided right at the time of admission. They are required to submit an affidavit along with the admission form and if any document is found to be false or any information found to be concealed, their admission will be cancelled.
On shifting from one course to another, a student if granted tuition fee concession on the basis mentioned above in the former course will not be entitled to claim the said concession in the latter course as a matter of right i.e. in the latter course it would depend upon the availability of the concession.
Incentives
25 most needy and meritorious students will be offered concessional education throughout the year as per the discretion of the Principal.
A special prize of Rs.500/-is awarded to the best N.C.C. Cadet, by the college.
A special prize of Rs. 300/- is awarded to the best N.S.S. volunteer, by the college.
The volunteers get additional 3% marks in seeking admission to PGDCA course.
Youth leadership Award of Rs.1000/- for rendering distinguished social and national service.
A maximum of 20 lectures will be given to students who participate in extra-curricular activities/sports at state/Panjab university level.
50% fee-concession will be offered to the handicapped students in all streams.